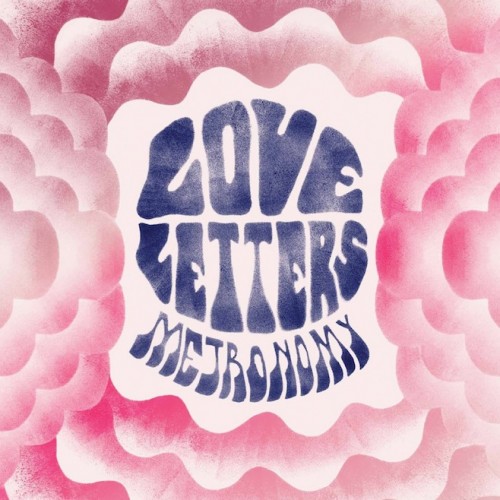 Starting off as a solo project for frontman Joe Mount; Metronomy has since become of the UK's premier bands, mostly down to the success of their immense 2011 sleeper hit The English Riviera. Not only was the record lauded with critical acclaim (most notably a Mercury prize nomination), but by the end of 2011 tracks from the album where pretty much everywhere, from Barclay's bank adverts ('The Look') to various television shows (The Bay). Now, with the spotlight firmly on them, have Metronomy managed to make an equally accomplished follow up?
Stylistically, The English Riviera was much very forward-thinking; the grooves and song structures were fresh and dynamic, where as Love Letters, though equally eclectic, is very much fixated with the past. This works very much to their disadvantage on the resounding dud that is 'The Most Immaculate Haircut', and with a title like that, it's hardly surprising. The production and the chorus are cheesy as hell, the overall feel is completely dated. That aside, this retro style is mostly successful, take the jaunty title track for example, the brassy instrumentation and female backing vocals which deliver the glorious hook being the highlight of the track. Fellow highlights include the sauntering lead single 'I'm Aquarius', the progressive 'Month of Sundays' and the funky, pulsating instrumental 'Boy Racers', the absolute standout.
My main issue with Love Letters and the band in general is Joe Mount's vocals, some find his voice emotive, but I for one just find them pitchy half the time. This problem only surfaces when he goes into falsetto, primarily on the opener 'The Upsetter', which is otherwise an excellent track. This probably explains why my favourite tracks here either feature female vocals ('Love Letters', 'I'm Aquarius') or no vocals at all in the case of 'Boy Racers'. The latter in particular being a testament to Mount's phenomenal production. The track 'Monstrous' is one of Metronomy's most innovative yet, the medieval organ-led melody is best described as 'Dracula-funk'. Filler aside, this album is predominantly killer.
After crafting a modern classic, making a follow-up that makes the same impact was always going to a nigh-on-impossible task. Though Metronomy do have a pretty good stab at it; 'I'm Aquarius', 'Boy Racers' and 'Love Letters' are among the best tracks they've produced so far. And whilst Joe Mount isn't the most gifted vocalist, he is one hell-of-a producer and this could be his greatest masterpiece yet
.
6.0/10
Key Tracks: 'I'm Aquarius', 'Love Letters', 'Monstrous', 'Boy Racers', Reservoir'