Albums of the month
Father John Misty - I Love You, Honeybear
After his breakthrough solo LP Fear Fun, Josh Tillman has delivered yet another excellent singer/songwriter LP. Sonically it isn't much of a departure from his previous material, however he does keep it interesting and throws a few curve balls in there, namely the electronica-tinged 'True Affection'. Best of all is the unashamedly soppy title track, which despite the sickly sweet lyrics is one of the most satisfying and engaging tracks in his discography.
Ibeyi - Ibeyi
The other day I indulged in a binge interview-watching session on YouTube, and it was here where I fell in love with Ibeyi. Their sound is inventive and fresh; singing in both English and Yoruba and combining elements of folk, vocal, electronica and hip-hop, making their debut record is like nothing I've heard before. They are also incredibly endearing, breaking into song every-so-often, completing each other's sentences and just seeming to happy to be where they are. My personal favourite track is 'Stranger/Lover' for its stunning piano melody, though every track is pretty solid in its own right.
Marika Hackman - We Slept At Last
I've been harping on about Marika for a while now and the time has finally come for her to release her long-awaited debut We Slept At Last. When following a new artist for a few years it's always a concern that their debut won't live up to the bar you sub-consciously set for them, fortunately this isn't the case here. Featuring only unreleased tracks on your debut album is always a risk, but it certainly paid off here, with album highlights including 'Animal Fear', 'Ophelia' and 'Open Wide'.
Screaming Females - Rose Mountain
Ugly, the debut album from Screaming Females' 2012 breakout record divided listeners, many loved the hard-hitting attitude that oozed from every track whilst others couldn't stomach Marissa Paternoster's marmite vocal style. With Rose Mountain however, it is very much the opposite; some of the band's older fans feel it doesn't go hard enough whilst others (like myself) appreciate its accessibility. Well one thing I think we can all agree on is that 'Wishing Well' is an absolute tune and is one of the best tracks of the last year.
Tracks of the month
Kendrick Lamar - The Blacker the Berry
The ongoing class war in the UK and the race issues in America have defined 2015 so far and I have no doubt they'll continue to be prominent areas of debate among members my generation, and rightfully so. Growing up in an area which is both ethically and economically diverse, I recognise the need for enlightened social commentators like Kendrick Lamar. This could well be his best track yet, both lyrically and production-wise it stands heads and shoulders over the output of his contemporaries. Inevitably his music won't appeal to a cynical and often ignorant older generation, but what is important is that we take notice of Kendrick's message and be inspired to speak about the issues that concern us.
Rosie Lowe - Who's That Girl
Yet another killer track from rising UK soulstress Rosie Lowe and this could well be her best track to date. She has confirmed that her debut album will be out this year and has given us the excellent 'Who's That Girl' to quench our thirst for the moment. The production, as ever, treads the line between now and the future, with icy beats and subtle vocal manipulation complementing Rosie's vocals impeccably. I need this album, and so do you.
Sufjan Stevens -
No Shade in the Shadow of the Cross
Following the announcement of his new record
Carrie & Lowell,
inspired by none other than his mum, Sufjan Stevens stated that it was a 'return to [his] folk roots'. Following the envelop-pushing and highly divisive The Age of Adz (my favourite album of his), I do feel this is a good route to take for Sufjan and could help him to reach a wider audience. In terms of the track itself, it's very intimate, very dreamy, very melodic and very Sufjan.
Chromatics - Just Like You
My first encounter with Chromatics was their track 'Tick of the Clock' from the excellent Drive soundtrack. The pulsating beats and the nocturnal vibe of the production made it an obvious standout and naturally I was very excited to see what else the band would put out. 'Just Like You' is far more dreamy yet equally hypnotic as the former, the vocals also become the focus of the track (the former is an instrumental) and make it more dream pop than electronic. There is currently a lot of hype surrounding this release so I hope Dear Tommy will deliver.
Braids - Miniskirt
Yet another unashamedly political track to reflect the times we are currently living in; this time against sexism, the idea of double standards in particular. This may defy the purpose of this song somewhat but what really grabs me about 'Miniskirt' is the production. It is certainly a lot more forthcoming and bold than the band's previous material, both production-wise and lyric-wise and I have to say, it sounds very promising indeed.
Novella - Land Gone
Having praised their very excellent single 'Follow' to the high heavens back in 2013 (let that sink in...), the shoegazing marvels have finally announced their debut album Land (with some pretty epic artwork). The lead single is yet another progressive track, with a surf-rock/psychedelic vibe which suits the album's May release date pretty damn well. It's always reassuring to know that I will have a nice summer-y record to cry about my upcoming exams to (silver linings and all that).
Undiscovered gem
Jane Weaver - The Silver Globe (2014)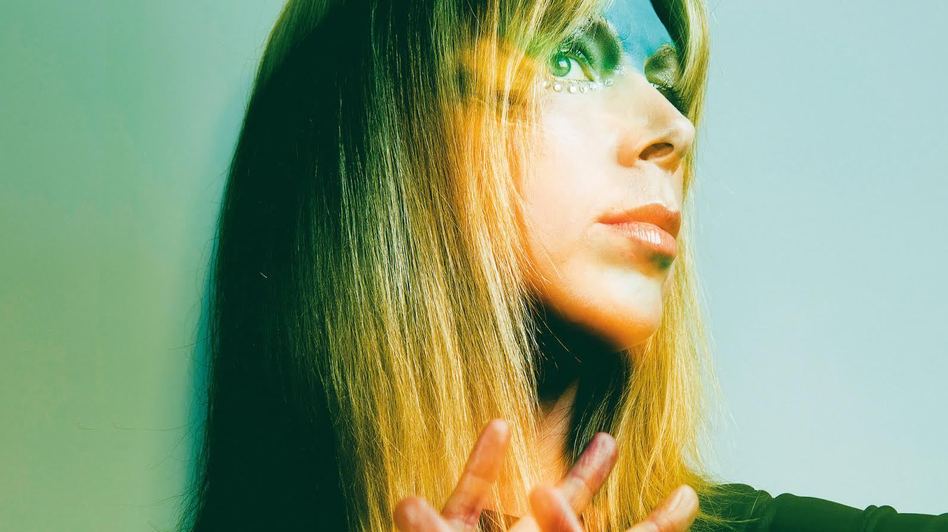 Having graced multiple 'Albums you may have missed' lists late last year, I have finally taken the time to actually hear the wonder that is Jane Weaver. This, her sixth album, is a ambitious concept album with all 10 tracks being as innovative and engaging as the other. If (like me) you were a bit late on Jane Weaver train you'll be glad to know that she's re-releasing the album with 10 extra tracks next month with a fancy repressing and everything.
Next month, look out for:
New albums from
Sufjan Stevens
Purity Ring
Lady Lamb the Beekeeper
Moon Duo
Clarence Clarity
Matthew E. White
Twin Shadow
Wand
The Go! Team
Courtney Barnett
Laura Marling
Lower Dens